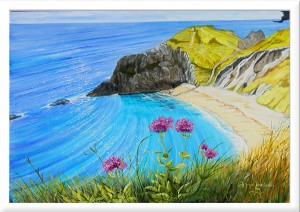 I love painting the sea in all it's differing moods. I try to capture the movement and light whatever the setting. Each work challenges me in a different way as I try and record the immediacy of the moment. I use mainly acrylics on canvas, although I have been known to use pastels and mixed media.
Below are just some of my seascapes, with titles, availability and price. Just click on any of the images to scroll through the gallery for a larger view. 
If you would like more information on each work or if you are interested in making a purchase please go to the Annie's Shop tab where you can make your selection and use the secure on line payments system. 
Postage varies dependent on size and weight, so each work has an individual cost which can be seen on the checkout page.
Many thanks for looking.
I have been asked by a number of clients to re-produce paintings in different formats. The majority of the paintings below are available as mounted prints. They are printed onto high quality canvas paper and placed in bevelled mounts within a clear, sealed poly bag and are only £15.00 each + postage of £5.00. Other images will also available in the near future as coasters, mouse mats, triple framed prints and cards. Please click on the  Annie's Shop tab to view the range available.
Don't hesitate to contact me if you would like further information or if you are purchasing from outside the UK please contact me before making a payment as postal charges will vary.