Originally from South Wales, I have lived in East Lulworth for over 30 years.  While I studied art as part of my college course at St Matthias College (Bristol University 72/75), I hadn't done any painting since then, until ten years ago when I rediscovered my passion and now my husband tells me ………..      
 I'm obsessed….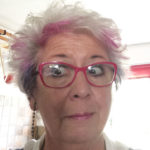 …..he could be right!
Actually he is right, as much as I hate to admit it! I'm also mad about my family, my friends, where I live, good food, red wine and anything Welsh…..so that's me in a nut shell.
About my work – as you will see in My Gallery, I paint mainly sea and landscapes from around Purbeck and Dorset's Jurassic Coast line – places such as Lulworth Cove, Durdle Door and Man O War Bay, which I find quite inspiringly beautiful, and also of my native West Wales. I tend to use acrylics on canvas, although every now and again I will use pastels and mixed media. I have recently been doing more portrait work and this is driven by need to improve my technical ability and push my boundaries, and so challenging myself to meet a higher and higher standard of work.
I am always excited about starting a new work, a bit scared as well…… that blank white canvas is a bit like starting a journey without being sure that all the directions are right!  Colour, light and shape play an important part in my journey across the canvas. I always hope that the finished work will add those dimensions to a space or room and generate an emotional smile in response. I have always believed that art should add a little joy to life and if mine achieves  that…. then I'm happy.
I take part in various exhibitions locally and have work for sale at following venues:-
The Weld Arms, East Lulworth, BH20 5QN – http://www.theweldarms.co.uk         Some prints.
The Springfield Country Hotel, nr Wareham – http://www.thespringfield.co.uk – Several original works and prints.
Past and Presents, East Lulworth, BH20 5QN – http://www.pastandpresents.co.uk They kindly stock a range of my cards, prints and calendars.
Purbeck Artisan Yard, Church Street, Wareham, Dorset  https://www.facebook.com/PurbeckArtisanYard – mainly prints, cards etc.
https://purbeckartisanyard.co.uk
Check out the Events page for all up and coming exhibitions.
I hope you enjoy viewing my paintings as much as I enjoy creating them.