This page is self explanatory ( I hope ) and is intended as a sort of on-going diary/blog – it includes works in progress and work completed, please feel free to post comments at the bottom of the page and on any work in My Gallery.
2018
A new year – A new me? Highly unlikely !!! 😆 So no new years resolutions from me, I only made one last year and that was to keep this website up-to-date and I failed miserably at that!
I would however like to start by thanking everyone who have helped and supported me through the past six months…. it's been a really hard time but it's also been filled with laughter and love….what more could I ask for.
January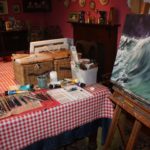 Look how tidy my studio is….. it won't last but hey ho!!
Thought I would do another wave….. progress is slow! I thought I might enter for the PAW competition, but not sure if I will finish it in time.
2017
My only New Year resolution is to keep this website up-to-date!!!
A huge Thank You to all of you who have helped and supported me during the past 12 months.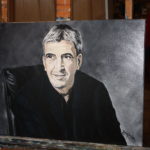 This portrait has gone to it's new home in Cardiff.
January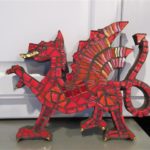 Something totally different !
I am so pleased with my mosaic Dragon. Mosaics are quite addictive and I am trying very hard to resist doing more….. watch this space!
Just started work on this for Purbeck Art Weeks Competition
'A Moment in Time' – Trying to use just three colours – Raw Umber, Mars Black and Titanium White, to give it an old sepia look. This work will soon be flying off to America.
I am so pleased with this work, another done for the PAW competition.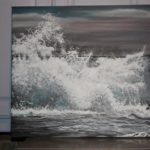 'Wave'
The detail seemed to take forever and ever and ever.
I have also been playing with images of my paintings in Smart Photo. It's a lot less complicates than Photoshop and I have to say I am pleased with the results.
February 
This Kingfisher is proving to be a bit of a challenge!!! Especially trying to capture the movement in the water, I hope I have achieved that.
Back to water for this one, another with lot's of movement, the photograph was taken from the back of the Rib, that operates from Lulworth Cove.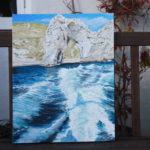 Thought I might try something a little different an up tight and personal of an Orangutang, he has such an appealing face.
March
March has been a busy month! Been trying to get some portraits finished. I have managed three human…… check out my Portrait Gallery for the finished articles.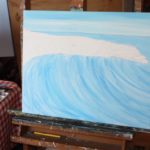 One of Lulworth Cove just started….have got the outline and some initial colour done
April 2017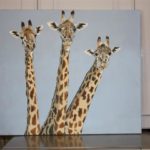 …..The Three Amigo's.
Really pleased with this as I think a I am capturing their different characters….well I hope so!
Well, it's now October….. so as you can see I failed miserably in keeping this site up-to-date!
Purbeck Art Weeks was a great success for all of us at the Shoot Room, but just before it, in May, I was diagnosed with bowel cancer. In June I had an operation and I have only recently started to paint again. Recovery and adjusting to the new me is a long, slow, arduous process……. thank God for painting….as the reality of what's happened to me is gradually sinking in, I can escape my thoughts by putting paint on a canvas.
2016
Here is hoping for a creative and healthy new year (was going to suggest wealthy as well but thought that might be pushing my luck!!)
January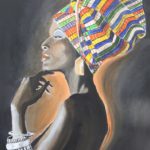 'Elegance'
My first creation of 2016. Painted using acrylics on canvas. Have to say I am really pleased with her….. although her head dress nearly drove me nuts!! For more details please go to My Shop page.
'Midsummer Dreaming'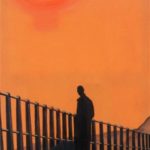 This is the work I have done for the PAW competition this year….theme –  Midsummer Dream. Thought this might be a bit different!
'Durdle Door in the Sunshine'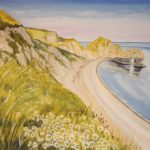 It seems a while since I have done a seascape, I like the calmness of this.
'Grapes'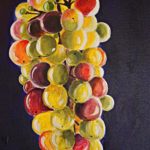 This was fun to do, acrylics on canvas and small for me 10 x 12 inches.
'Listening Hare'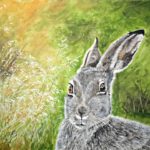 I am trying to do a series of three animal portraits in readiness for Dorset & Purbeck Art weeks in May….. this is the first.
Here is is number two under way…..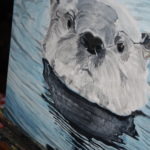 February
'Hove To, in the setting sun'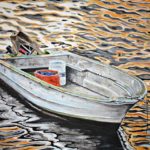 I am really enjoying the challenge of painting boats, this one is on a block canvas.
I was thinking about doing a 'still life' board for Purbeck & Dorset Art weeks and as I haven't done any flowers in a good while….. here is the start of a pot of geraniums.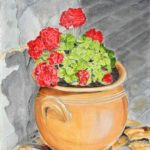 and here is the finished work. I am really quite pleased with the result. Please go to My Gallery – Still Life and Floral if you would like details.
On a bit of a 'Still Life' roll now…..!!
Going to end up with a fruit salad at this rate!  One more to go…Cherries.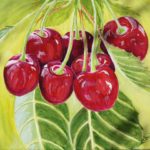 …..done.
March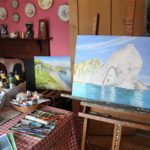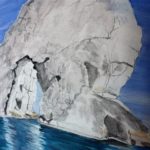 I do like finding 'different' perspectives on a well known and painted theme….luckily I have friends who have boats who afford me the opportunity to capture different angles.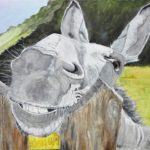 Meet  'Dilwyn The Donkey' He is just SO cheeky –             I love him. He is my third animal portrait for DAW & PAW.
In addition to the two above I have three other canvas's that I prepared for my demo at Wareham Art Club – see the events page.
April
News.……. very exciting new art space –Purbeck Artisan Yard, Church Street, Wareham.
Along with other members of the Phoenix Group we are exhibiting here. It's an interesting space….an old builders yard, it's very industrial, quirkily(is there such a word!) scruffy with lots of very different things going on. There are paintings, photography, leather work, jewellery, vintage and upcycling. Well worth a visit.
https://www.facebook.com/PurbeckArtisanYard/
Here are paintings that I have been working on ….. all very different and challenging in their own way!
Well, it's now November and I have been completely useless at keeping these pages up to date….too busy painting!
I have added all my new work to the Galleries, so you can check them out there.
My New Year resolution will be to keep it up together!
2015
Well, another year begins……. let's hope it's fruitful and creative.Thank you to everyone who supported and encouraged me over the past 12 months, couldn't have done it without you.
 January 
As last year I have started this year with a work intended for Purbeck Art Weeks. The theme for 2015 is 'Out of The Depth'. While I am not a huge fan of themes, I do enjoy the challenge of producing something different ……………..and this is different for me!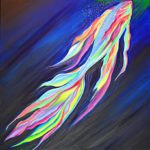 'Coming up for air'
I used a lot of fluorescent colours in this, although I don't think the photograph shows it particularly well….. it's bright! 
Must be feeling home sick as I have just finished a painting of an old Pembrokeshire cottage, Treleddyd Fawr Cottage. It is one of the last of it's kind and about to be renovated by the National Trust Wales.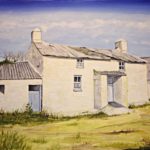 I am so pleased with this.  
Still on the homesick theme…. 'The Valleys' my next work is going to seriously challenge me….. watch this space to see if it really does drive me bonkers!!!   😉            
I am using a very limited palette of browns and ochres with just the odd splash of colour to pull the eye in.
I have just noticed that I started 2014 by doing two painting of Wales….. that's a bit spooky! Must be something in the air at this time of year.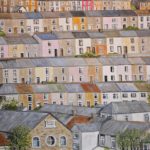 The finished article…. have to confess to being very unsure about it, but, having had SO many positive comments I am now secretly very pleased with it….. and didn't totally loose my sanity!
February 2015 
Time to get back to water I think, so have just started this new one of North Wales.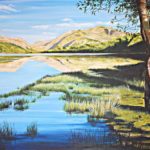 and here it is, finished. I am really pleased with the contrast of light and shade…. quite dramatic. For a better look go to My Gallery – Landscapes. 
March 2015
I have decided to do another perspective challenge…. Why? well, I ask myself the very same question! It's all about learning and improving and pushing myself to create better work.
I forgot to take a 'work in progress' shot, so here it is finished. I have had some seriously good comments about this work, which caught me a bit by surprise….. I suppose because I am not that confident when it comes to drawing and painting buildings and the dreaded perspective. Anyway, less rambling from me…..it's titled ….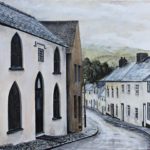 'Crickhowell'.
I seem to be stuck in my 'home sick' theme……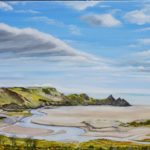 'Three Cliffs Bay', Pembrokeshire. 
Another I forgot to take a photograph of. Just finished it, ready to go for framing. 
NEWS.
As this is also a 'News' page I thought I should include that George North signed his portrait….. you cannot imagine just how thrilled I was.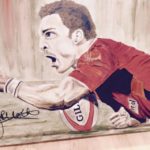 ….not a brilliant image, but you get the idea!
Also, a couple of weeks ago I was interviewed by Peter Tate for a piece on the Purbeck Art Weeks web page….. follow this link if you would like to read it (please don't look at the photo's of me….I look like a stunned muppett. !!!!!!!)  http://www.purbeckartweeks.co.uk
I seem to have been quite productive this month, so here is one that I actually remembered to take a photo of in it's early stages…… and it's back to Purbeck for this one…… and it's an unusual perspective.
In looking ahead to Purbeck Art Weeks I have been trying to plan my boards and decided that I might do different themes for each . So, my thinking is that I will have a 'Welsh' board – as I have done a few in the last couple of months, a 'Local' board, a 'Boats' board and a 'Portrait' board.
With that aim in mind I thought I should crack on ….always good to have a plan……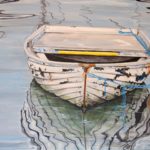 I did this last year and I really like it, so I am planning on doing another couple of boat paintings to accompany it. 

 These are the preliminary drawings of a yacht called The Lulworth. I was drawn to it by the quite dramatic angle, the unusual perspective, plus I live in East Lulworth so it seemed apt. This is being painted on a 24×30 inch canvas and will be framed.  Please go to My Gallery / Seascapes to see the finished work.
April 2015
Below are the first steps in my final 'boat' series for PAW.
All three are quite different. They should, hopefully, have an impact.
Haven't done any portrait work in over a year, so thought it was about time….. initial sketch and basic colour done. 
June 2015
Well I got so involved with Purbeck Art Weeks that I have been very neglectful of these pages!
Here are the three I have been completed. Have a look at My Shop page for more details.
This is another of Man O War Bay. I never tire of this scene, it constantly changes.
News
I have just sold my first work in America…… too excited for words…..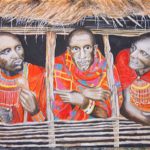 my ' Three Warriors' have been bought by a lovely lady in Florida.
Does this mean that I am now an international artist!!!
July 2015
I have absolutely no idea where June has gone!
Been busy getting work ready for Dorset Arts & Crafts exhibition at Purbeck School – from the 30th July – 4th August. Also been thinking what to put in The Gallery at Upton Country House….. Oh decisions, decisions!!!!
Here are the preliminary drawing and colours for one of Man O War and another Venice one. Will probably try and do three of Venice.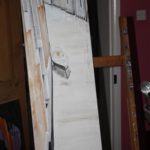 this will have a very simple colour palette.
and here are the starting ones for the third one.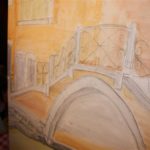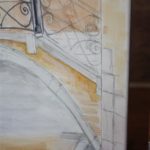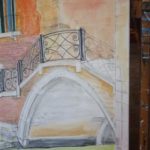 September 2015
Well as you can see, I have been neglectful of these pages and I shall have to promise to be more diligent!
In my defense I began working on a portrait of Sam Warburton….. but it all went horribly wrong……..so I started another AND that went horribly wrong! Taking a deep breath I went for a third….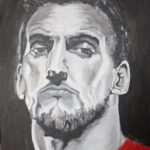 which I was happy with – my brothers Christmas gift.
I also completed a commission – also wanted for Christmas.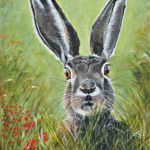 2014
I will begin this year with a big THANK YOU to those who have bought my work and supported and encouraged me throughout 2013.
This year I plan on pushing myself artistically…. more portraits and more landscapes, so I will hopefully continue to grow and improve. 
January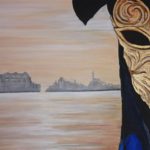 ….. here is a peak at a work I am doing for Purbeck Art Weeks, which I hope you guessed has a Venetian theme!       
Also working on a landscape of Llanberis is North Wales, it's a bit of a departure for me….. especially as I am using a very limited palette of mainly raw umber, yellow ochre, ultra marine, cadmium yellow and white.
 and….. (busy month!) started a seascape of Lulworth Cove.
 Why work on three, did I hear you say? Well, I was invited to do a demonstration to Wareham Art Club and wanted to take three work, each at a different stage….. rather than just one work, which I thought might be bit dull. I think it worked well and they have invited me back to show the finished articles, which is nice. Thoroughly enjoyed the evening and no one fell asleep (always a bonus!)
February 
So, here are the finished works, all quite different.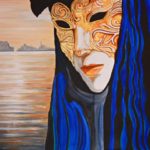 'Masked'                                                Hoorah, just heard (26/03/14) "Masked" has been chosen to head up     the Events section of this year's PAW brochure…… really pleased.
 ' Llanberis'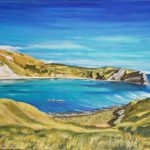 ' Lulworth Cove'
Also just finished this lovely lady. It was painted (by kind permission) from a photograph taken by Sandy Powers – www.SandyP.net – check out her web site, lovely work.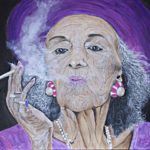 'When I grow old, I shall wear purple'                 So pleased with the way she turned out….full of character and panache.
The up-side of all this awful weather is that it has kept me indoors painting, so it has been a productive few weeks…… but by golly I want some sunshine now!
Decided I had been a bit sexist with my portraits, so time to start on the male sex. Very limited palette for this one:- raw umber, naples yellow, black, white and a touch of sage green. The hands are a real challenge!
March
I haven't done any work in Kimmeridge for a long time……. so decided on a different perspective….. from the Boathouse.
This work has taken me weeks to complete…. and I have no idea why! Finally finished it on the 28th.
Another limited palette of Snowdonia, North Wales in the making….. trying to capture the wildness and majestic beauty of the area.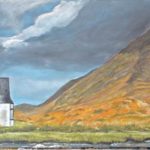 May 2014
Well, April kinda flew by! Really busy getting work ready and forgot to take the photographs!! Nuts!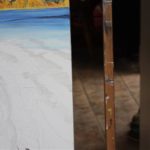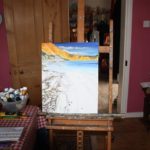 Lulworth Cove – with the sun setting…the amount of detail in the foreground took forever!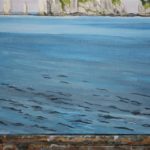 This is Old Harry from a slightly different perspective.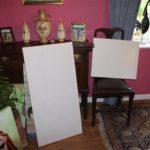 and a couple more primed and sketched ready to start.
Man O War bay…. haven't done it from this perspective before. While the sea is calm there are lot's of different movements in the water as is curves around the bay and the rocks….. it will be a challenge to capture!
June 2014
Thoroughly enjoyed PAW, spent the two weeks sitting in the Orchard Tea Rooms at Holme for Gardens painting…. the results of which can be seen in the Seascape pages of the Gallery.
Have now started a new work……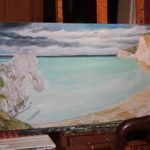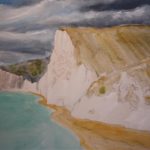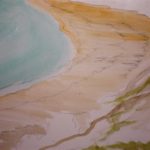 …. looking across the bay from Durdle Door.
This has it's own unique challenges as I am trying to use a limited palette to create a striking colour contrast. 
July 2014
Working on a piece for Holme for Gardens, it's the area just outside their Orchard Tea Rooms…… hope they like it!!! The detail is hugely time consuming but getting there – slowly.
 The finished article. Can be seen hanging in the Orchard Tea Rooms at Holme for Gardens.
August 2014
Well this month has just flown by…… as well as the above finished Freddie The Fox.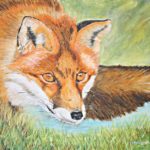 September 2014
Started on a sunset looking across St. Oswald's Bay.
.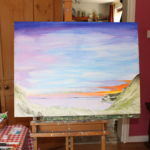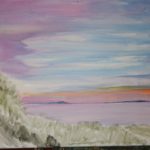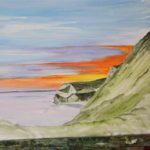 (Please open the Seascape Gallery to see the finished work.)
Thought it had been a while since I have tackled a deck chair …..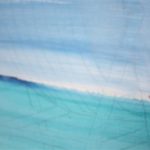 and it still makes me nostalgic, when I think of trying to pull my granddad out of one! He was well over 6ft tall and while he could easily fall into one….. he had the devil's own job getting out without a helping hand. I am going to title it 'Those were the days'.                                      (Please open the Seascape Gallery to see the finished work.)
October 2014 
Time for something a little different…..
So pleased with how this turned out. Check it out on my 'Seascapes' page.
November 2014 
 It's getting near to the festive season…. time for something with feathers!
Meet 'Gertrude the Goose'…. I hope she will be quite delicious!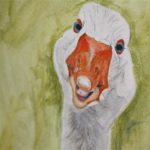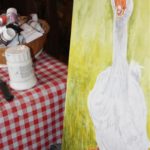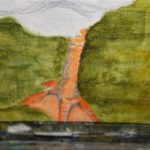 …..and now for something a little more exotic. I thought I would use a very limited palette for this.
2013
I am still working on the seascape that I started on in December, it's such a big work 47 x 39 inches and just a wee bit daunting, that I am doing it in between others.
I am really pleased to have quite a few exhibition lined up for the coming year, check out the 'Diary' tab for dates and venues.
 BUT, I guess the most exciting thing is that I have been approached by The Agora Gallery in Chelsea, New York…… yep, New York….. asking if I would like to make a portfolio submission. WATCH THIS SPACE……. 
Well I thought about it and I thought about it and then I thought some more and in the end I decided not to. Why? …. lot's of reasons – cost, insurance, shipping and control really. I couldn't just pop down to the Gallery and see how things were going!!
So now the excitement is over, it's back to normal, well… as normal as things ever get!  
There is some progress on the seascape mentioned earlier… it's still not finished but I am getting there slowly.
In the mean time I have been working on a number of other paintings.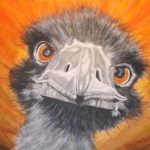 He makes me smile!
The following work was done for a friend who saw the original in a hotel somewhere far away and exotic.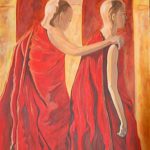 and these brought out the romantic in me!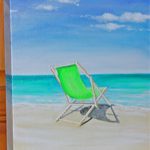 and this one is being donated to a fundraising event.
March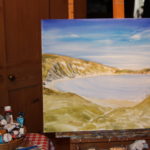 Have been working on this for Purbeck Art Weeks. It's another on Lulworth Cove, I never seem to get tired of painting this place. It should be finished in plenty of time.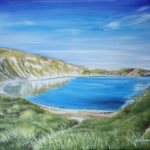 …………. Here it is finished and I have to say I am pleased with the result. 
 November 2013
Can't believe how time has flown …… I have been very neglectful of this page – too busy painting. 
Here is the latest work in progress and although I have painted this scene from various angles this is the first to incorporate the huge cliff fall that happened earlier in the year.
2012
26th May – 10th June 2012
Purbeck Art Week
Finley's in West Lulworth was the venue for Lulworth Arts, it was our best exhibition to-date. I will post details of the next one on here, so be sure to come back for an update.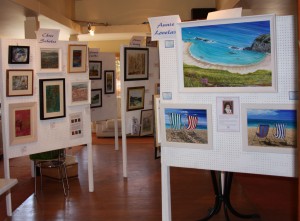 Have been lucky enough to sell two pieces along with some prints and cards ……..hurrah!
08/06/2012
Decided to try something new today and challenge myself……..so here are snippets from the beginning of my latest work. I'm pleased with the colours ( Yellow Ochre, Burnt Umber, Naples Yellow and Titanium White) and the general composition, so a good start!
I'm always nervous and excited about starting a new piece of work, it's like a mini adventure because I'm never sure how it's going to turn out.
10/06/2012                                                         .
My Masai……coming along quite nicely!
Decided to keep their faces in shadow so the eye is taken to the group rather than the individual………. actually having said this, it probably has more to do with the fact I am a wee bit weary of portraiture and don't want to mess up the overall composition, which I really like!                               I shall have to be braver next time.
15/06/2012
"Masai – Jump Dance"                                                                                                                                                             Finished. I am pleased with it, especially as its SO different for me……quite out of my comfort zone.
.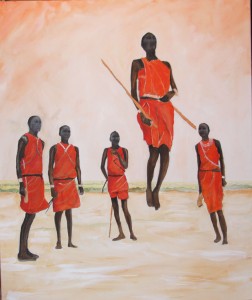 23/06/2012
My latest offering….. I have loved doing this, it really challenged me and I am happy with the result.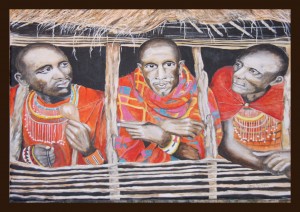 "Three Masai Warriors" – just watching the world go by.
So completely different…. colours and subject matter.
Why did I choose it, well, apart from the above, I just loved their faces and the fact that they look like three everyday (Masai) blokes, leaning on a fence or bar, having a good old natter while watching the world go by. It felt sort of universal… if that makes sense!
With the exception of splashes of blue, I liked using a fairly limited colour palette …. it added to the challenge.
Please have a closer look by clicking on Portraits in My Gallery. Hope you like it.
What next?
30/06/2012
Three is a good number………. so a Trilogy it is, and, as the first two contain only men, I thought I should go some way to redress the balance balance by painting a female Masai.
So here she is……………
"Portrait – Masai Woman"
I think she is rather gorgeous and vibrant, even if I say so myself!
Used the acrylic paint very thinly and built the colour up in layers. Again a mainly limited palette….. Burnt Umber, Burnt Sienna, Black, titanium White, Cadmium Yellow, Orange and Red. The detail in her clothes nearly drove me bonkers – but worth it I think!
The Trilogy is complete. I hope you like her and them. Please feel free to leave a comment or have a closer look at her in the Portrait section of My Gallery.
Time to prep some more canvas's………………………….
02/07/2012
A good few of the seascapes I have done recently have been of calm water and sunshine, so, time for a change me thinks.                           Here is the start of my latest work….
It has been roughly sketched and a thin wash of base colours applied with a 2 inch brush – Raw Umber, Cadmium Orange, yellow Ochre, a mixed grey and pale blue. I will build the colours up in layers, not necessarily how the purist use acrylics, but it works for me.
"Man O War – on a Stormy Day"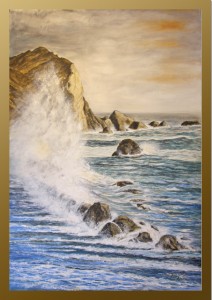 The finished item, I'm pleased with the movement I got in the water and how the rocks sit in it.
"Tyneham – Abandoned"
I used a mixed media for this- a combination of acrylics, pen and pencil.
Need some colour………. I liked using the mono-crome colour scheme for a change, but now suffering from colour withdrawl symptoms!!!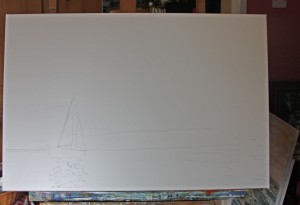 Photo isn't as clear as I wanted ….. 1st rough sketch of a boat on water……….it will be brighter!
09/08/2012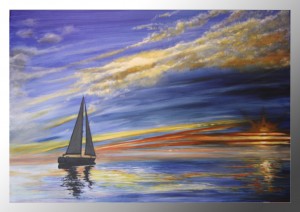 Much brighter!    Love the colours and pleased with the effect of the reflections on the water. Although bright, I have called it "Calm"
I have been a busy bee since Camp Bestival!
"Side by Side"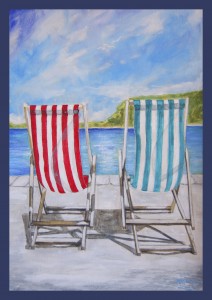 As I sold my last deck chair picture at Bestival, thought it was time for another. I love doing these, they take me back ….. and I remember trying to pull my Granddad out of one on the beach at Tresaith, in Cardiganshire, Wales where we spent lovely hot, long summers running like wild things. Great memories – expect more.
Well, now for something completely different………..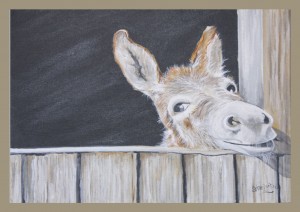 "Well Heellooow"   Just couldn't resist him and his cheeky face
and
I had nearly three weeks when I was organising the exhibition for Bestival when I didn't do any painting – I think I got withdrawl symptoms and went on a painting binge!!!!
24/09/12
Its been a few weeks since I have added anything….. had a couple of weeks away in Wales. A few days spent in Cardiff (see My Gallery) and a week in north Pembrokeshire…..quite stunning AND the sun shone – mostly! Managed some good photgraphs which I hope will translate into paintings in the future.
Anyway here are my latest offerings….. Go to the Gallery pages for a better view.
Opps Can't See Our      Man O War Sunset  &  Just The Two of us   Feet!
28/09/2012

Here is my latest Man O War painting. I seem to be fixated by it at the moment! But every time I see it, it's in a different mood and light. For a better view, go to the Seascape page in my gallery.
Man O War – from the beach
07/10/2012
Below is a painting for my friend Jan, who is my IT Guru. This web site would not exist without his help. He's a mad, bonkers windsurfer, hence the subject of the painting and it's done under Gad cliffs.
By Gad ! – Windsurfers at Kimmeridge.
13/10/2012
I have at last finished my 'Farmyard' triptych.
Come on in – the grass is great!                Oink! …give us a kiss.
Neigh lad!                                                     Baah!
Can't call them part of a triptych any longer! I am So enjoying the challenge of this series of paintings and the fact that they make people smile.
15/11/2012
This is a BIG canvas – 47×39 inches and a real challenge as I have never tackled anything this size before….. it may take me a while!
 I started by drawing the basic outline and then used a 2″inch brush to get the under colour in place. 
02/12/2012
I haven't made a great deal of progress with this and suspect it's one I will work on in between others….. watch this space.
09/12/2112
Well I was right…… here is my latest offering,  I hope you like it.
'Hare Today….'