TURNER, ROSSETTI, GOSCOMBE JOHN, MEREDITH FRAMPTON, VETTRIANO, VERMEER, PISSARO, LEONARDO …… and so it goes on.
These pages are really about other peoples work (alive and dead!) …. what I love, what moves and motivates me, what inspires me to want to improve. As mentioned earlier, I have only just started to paint again in the past couple of years and yes, I am totally obsessed by it. I just want to get better and better….. with the use of colour composition, perspective and …oh, just all of it really.I get such a buzz when it all goes right and seriously frustrated when it doesn't. I constantly look at the work of artists like the Impressionists and Turner and wonder 'How on earth did they achieve that?'
Finally, being a labour of love I need to fund my habit so most of my work is available for sale either as an original or a print. Please take a look at my secure shopping area.
Joseph Mallord William Turner RA (23 April 1775 – 19 December 1851) was an English Romantic landscape painter, watercolourist and printmaker. Turner was considered a controversial figure in his day, but is now regarded as the artist who elevated landscape painting to an eminence rivaling history painting.Although renowned for his oil paintings, Turner is also one of the greatest masters of British watercolour landscape painting. He is commonly known as "the painter of light" and his work is regarded as a Romantic preface to Impressionism.
I was completely blown away when I first saw The Fighting Temeraire at the National Gallery in London. I just stood and stared and stared, glued to the spot in awe.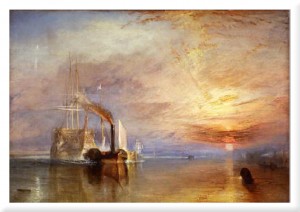 Impressionism is a 19th-century art movement that originated with a group of Paris-based artists. Their independent exhibitions brought them to prominence during the 1870s and 1880s, in spite of harsh opposition from the conventional art community in France.
 Radicals in their time, early Impressionists violated the rules of academic painting. They constructed their pictures from freely brushed colours that took precedence over lines and contours, following the example of painters such as Eugène Delacroix and J. M. W. Turner. They also painted realistic scenes of modern life, and often painted outdoors. Previously, still lifes and portraits as well as landscapes were usually painted in a studio. They portrayed overall visual effects instead of details, and used short "broken" brush strokes of mixed and pure unmixed colour—not blended smoothly or shaded, as was customary—to achieve an effect of intense colour vibration.
………. and then I try and be more 'impressionistic' only to find I'm putting in detail after detail!!!!! There is just no hope for me!! I can't seem to help myself….. even the tiniest pebble gets included.
More Turner….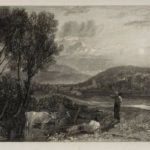 This is where I live….amazing to think Turner was once here.
Other Inspirational Work:-
I recently went to the National Museum of Wales in Cardiff, fabulous ……the collection of French art, from about 1850 to 1910, is one of the largest in Britain and is of international importance. Many of these works form part of the Davies bequest, assembled by the sisters Gwendoline and Margaret Davies from an industrial fortune made in the Rhondda by their grandfather, the Victorian entrepreneur David Davis. Central to the collection are an exceptional group of Impressionist and Post-Impressionist paintings by Manet, Monet, Renoir, Sisley, Cézanne and Van Gough.                                                                    

I fell in love with Renior's Blue Lady, needless to say all of the Turner's.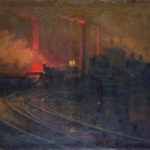 Lionel Waldens 'Steel Works, Cardiff at Night' is so atmospheric you can smell the smoke and almost feel the dampness in the air.
What really caught me by surprise though was the work sculptor Sir William Goscombe John . Born in 1860, in Canton, near Cardiff, the son of a wood carver. Goscombe John worked alongside his father on carving and marquetry as part of the rebuilding of Cardiff Castle by William Burges.
I do tend to have an emotional reaction to art and my heart skipped a beat and I became mesmerised by
'The Boy Scout'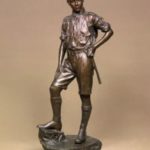 and
'John the Baptist'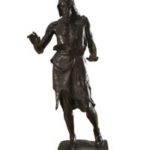 and had real trouble in not touching them!
I could go on and on……. didn't manage to see half of what I wanted to, so will be returning.
Other Inspirational Work :-
On a modern theme, you have to love Jack Vettriano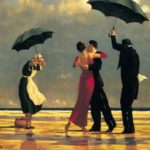 Vettriano's success in the art world has proved that anyone is capable of making his or her dreams come true if he or she is determined enough. He started out with only water color paintings and a hobby that blossomed into a national sensation; even crossing borders. He was able to make a name for himself with the use of his paintbrush.  If there is one message his life conveys, it would be that when one dreams, one should dream big.
I am in awe of the work of another Welsh artist Vernon Jones, his paintings of the sea are quite amazing…. look him up.